With a comprehensive range of depths, starting at 195mm and running through to 424mm, Metal Web Joists offer solutions that serve as alternatives to solid timber joists and I-joists. Perfect for residential and commercial applications, Flightwise Joinery is proud to recommend them as a construction option.
Metal Web Joists have European Technical Approval (ETA). All ITW CP licensed fabricators CE mark their joists to legally comply with the construction products regulation.
This includes an external quality assurance system and clear labelling of every joist and rafter. They typically achieve greater maximum spans with fewer double webs and timber.
Extra teeth improve the stiffness and strength of the joist, which also reduces deflection.
Burst-through holes increase web strength in compression.
Contact tabs aid load transfer from webs to timber chords, increasing web capacity.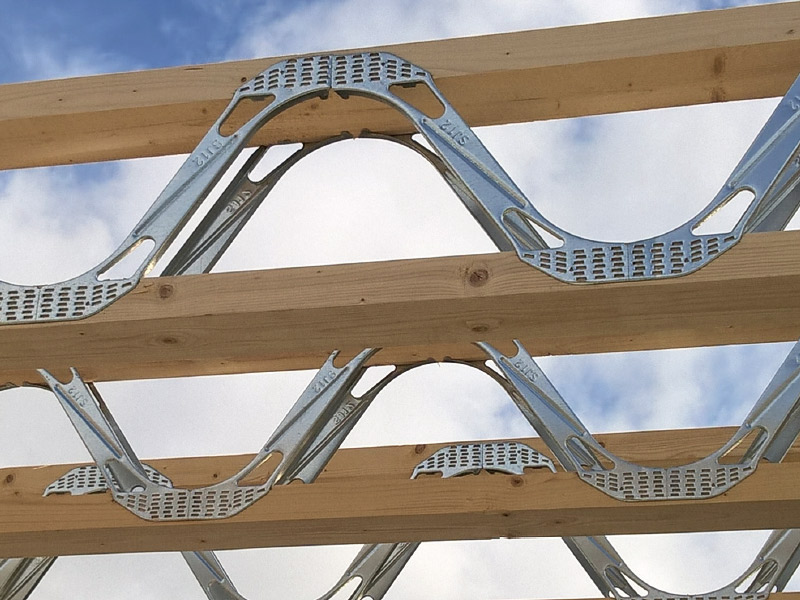 Long Spans
Longer spans are achievable in comparison to solid timber. This may eliminate the need for intermediate load bearing internal walls, reducing a building's overall cost.
Reduced Wastage
Manufactured to size eliminates site alterations saving time on site.
Design Flexibility
SpaceJoist can be designed top hung to eliminate the rim board in timber frame construction, improving air tightness and reducing thermal bridging.
Less Timber and Fewer Webs
Tests show that the NEW SpaceJoist system requires less construction material, saving cost.
Sound Performance
SpaceJoist delivers outstanding acoustic performance to comfortably pass English and Welsh regulations, even complying with the more stringent 43dB Scottish regulations without additional insulation, plasterboard or resilient bars.
Fire Performance
NEW SpaceJoist category C open web floor solution is approved by the Structural Timber Association (STA) in their product paper 4 as an acceptable option to achieve a fire robust solution during the construction process.
Easy to Handle
Now even lighter, the lightweight construction makes SpaceJoist easy to individually move on site without the need for crane hire. Alternatively, floor and roof sections (cassettes) can be delivered to site and craned into position to save build time.
Wide Nailing Surface
Fixing of floor and ceiling materials is simpler and quicker due to the minimum chord width of 72mm.
Highly Engineered
SpaceJoist are manufactured off-site ensuring consistent quality and reliability.
Open Web Design
Fast and simple installation of services, without the need for drilling or notching. Joists can accommodate large services such as mechanical heat recovery systems.
Home Grown Timber
SpaceJoist can be manufactured in home grown timber, reducing carbon footprint.
Attic Bottom Chords
SpaceJoist can be incorporated into attic truss bottom chords to achieve greater spans, deeper insulation and provide a service void.
Typically achieve greater maximum spans with less double webs and timber:
Extra teeth improve SpaceJoist stiffnessand strength which reduces deflection.
Burst-through holes increase web strength in compression.
Contact tabs aid load transfer from webs to timber chords, increasing web capacity
Flightwise Joinery & Timber Engineering Connectors
Since 1977 Cullen Timber Engineering Connectors have been synonymous with innovation, quality and customer service within the building industry.
Connector Range
With our design partners, you can be confident that you are fully supported by a highly qualified technical team. Our experts are ready to offer advice in all timber engineering-related matters. Our skilled professional partners play a leading role in the industry's representative bodies finding solutions to future challenges, working with the STA, TRA and TRADA to name a few.
They also follow a customer-focused approach to new product development which allows us to research and interpret the true needs of our customers and their industry. Their product development begins on-site, not in a lab.
Thanks to their dedicated focus on innovation, they add new products to their offering which are true problem solvers for the industry.
Truss to Wall Plates
Ensuring trussed rafters are secured to wall plates.
Timber To Masonry
Traditional timber to masonry connector range designed for use with I-Joists, open web and solid timber joists / trusses.
Timber Frame
High performance metal work required in timber frame structured from anchoring timber sole plates to timber frame panels through to rim beam connections.
Solid Timber Roof Truss
Used to support trusses from standard to very high load situations.

INTERESTED in our Ecojoists?
Customer
You are a great little company and similar organisations could learn a big lesson from the way you do things.

Customer
It was such a pleasure dealing with your company

Customer
I asked if it could be delivered in a couple of weeks and immediately I was given a date which was adhered to (a rarity these days)

Customer
The stairs obviously fitted perfectly and exceeded our expectations with regards to quality and finish especially considering they were so reasonably priced.

Customer
Thank you so much for what can only be described as a first class service from start to finish.
